秘密遣返:二戰後被背叛的中國海員/The secret deportations: how Britain betrayed the Chinese men who served the country in the war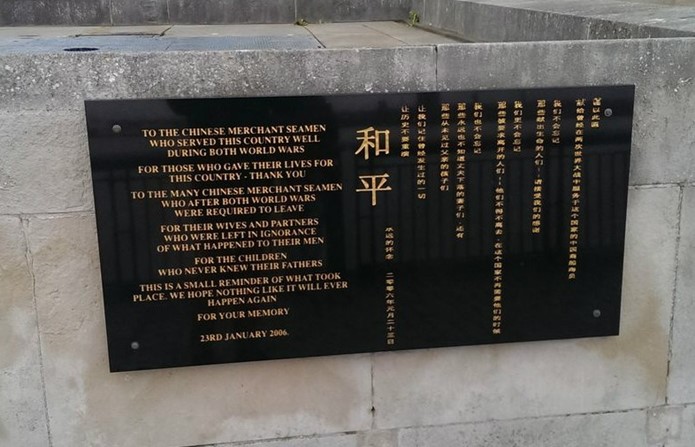 位於利物浦的大理石碑紀念兩次世界大戰中服役的中國商船海員。 (網上圖片)
A marble tablet in Liverpool for memorial of Chinese merchant seaman served in both World Wars. (Source: Internet)
長久以來,海員的貢獻往往被遺忘。二戰期間,不少來自中國的商船海員冒險協助英國人運送軍火和食物,甚至有人因此而犧牲,至1945年後期,數以千計在利物浦結婚產子的退役海員,卻突然間「人間蒸發」。直至近年解封的秘密檔案揭發,當時英國政府秘密執行任務,全城搜刮海員,並強制送上船遣返中國,迫令他們與家人分離,背負着拋妻棄子的罪名。超過70年來,被拆散的大批家庭被蒙在鼓裡,至今未獲政府承認,沒有調查,也沒有一句道歉。
The contributions of seamen were too often forgotten. During the Second World War, Chinese merchant seamen helped keep Britain fed, fueled and safe – and many gave their lives doing so. But from late 1945, hundreds of them who had settled in Liverpool suddenly disappeared. It was only decades later, with the declassification of official documents, discovered that Chinese seamen were forcibly rounding up, putting on boats and sending back to China in a compulsory repatriation. Those Seamen could no longer see their family again, and had been blamed for abandoning their wives and children. For more than seventy years, a large number of separated families have been kept in the dark, and there has been no government acknowledgment, no inquiry and no apology.
隨著檔案「HO/213/926」解封,以及一些海員子女在世界各地的檔案館調查,此段背叛的歷史才逐漸浮出水面。1945年10月19日,13名英國政府人員在倫敦白廳街舉行秘密會議,由當時的內政部官員主持,參加者包括外交部、戰爭運輸部、利物浦警方及移民署代表等。會後,內政部開立一個從未公開討論或公布的檔案,並名為「强制遣返不受歡迎的華人海員」。
With the declassification of HO/213/926, and painstaking investigations by some of the seamen's adult children, this harmful betrayal in British history would gradually come to light. On 19 October 1945, 13 men gathered in Whitehall for a secret meeting. It was chaired by a senior Home Office official, and he was joined by representatives of the Foreign Office, the Ministry of War Transport, and the Liverpool police and immigration inspectorate. After the meeting, the Home Office's aliens department opened a new file, whose contents were not to be discussed or publicized. It was titled "Compulsory repatriation of undesirable Chinese seamen".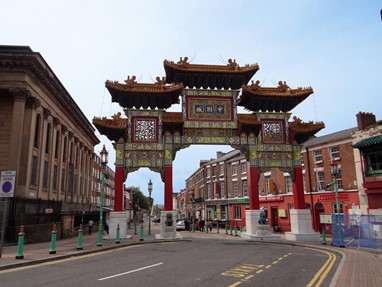 利物浦的中國城是歐洲最古老的華人社區之一。(網上圖片)
Chinatown in Liverpool is one of the oldest Chinese communities in Europe. (Source: Internet)
利物浦的中國城是歐洲最古老的華人社區之一,淵源來自當地大型航運公司經營的船隊來往上海、香港及利物浦。二戰期間,有多達二萬名華人海員在利物浦的航運業內工作,當時德國納粹黨試圖切斷英國的補給線,航運公司聘請大批低薪的華人海員維持英國商船的運作,為國民提供燃料和食物。他們在甲板下的輪機室默默耕耘,甚至上千人在受到德軍潛艇威脅的北大西洋海域執行護航工作時喪命。華人海員和英國海員在同樣的環境下工作,但華人海員的工資不及英國海員的一半,而且也不能享受英國海員每月10英鎊的戰時危險津貼。戰爭結束時,據英國內政部估計,利物浦約有2000名退役的華人海員。
Liverpool has the oldest Chinese community in Europe. At the root of this relationship was the shipping group whose cargo steamships connected Shanghai, Hong Kong and Liverpool. During the war, as many as 20,000 Chinese seamen worked in the shipping industry out of Liverpool. These low-paid seamen kept the British merchant navy afloat, and thus kept the people of Britain fueled and fed while the Nazis attempted to choke off the country's supply lines. Working below deck in the engine rooms, they died in thousands on the perilous Atlantic run under heavy attack from German U-boats. They received less than half the basic wages of their British crewmates, nor were they paid the standard £10 a month "war risk" bonus. By the end of the war, the Home Office estimated that there were about 2,000 decommissioned Chinese seamen in Liverpool.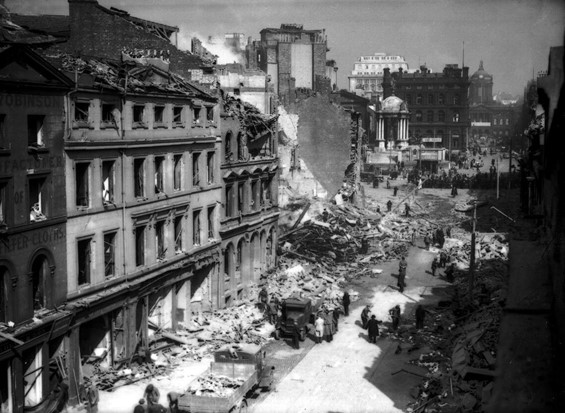 利物浦在二戰後滿目瘡痍。(網上圖片)
Liverpool was devastated after World War II. (Source: Internet)
英國被戰火蹂躪下,傷亡慘重,不少人流離失所,失業率和通貨膨脹狂飊。在利物浦,市政府急於騰出房子,安置從戰場上歸來的軍人。在白廳會議上,這班曾被視為戰爭英雄的華人海員,被指給警方帶來麻煩,會上又指戰爭已經結束,在中國的日本軍隊已經投降,中國海岸邊境再次開放,允許英國政府開始─套用其用語─「以正常步驟除去不受歡迎的外國海員」。
The country was devastated after the war – hundreds of thousands were dead, millions were homeless, unemployment and inflation were soaring. In Liverpool, the city council was desperate to free up housing for returning servicemen. At the Whitehall meeting, seamen of merchant navy were no longer described as war heroes, but were alleged that they had "caused a good deal of trouble to the police". Now that the war had come to an end and Japanese troops in China had surrendered, the Chinese coast opened up again – allowing the British government to commence, in its own words, "the usual steps for getting rid of foreign seamen whose presence here is unwelcome".
秘密遣返行動卻不是一個正常、平靜或合作的任務。書面記錄表明行動以追捕形式進行,「圍捕」一詞亦在官方信函中多次使用。有移民官員於報告中稱,「我們花了整整兩天的時間密集搜查大約 150 間利物浦寄宿公寓、私人寄宿公寓和私人住宅。」 至1946年夏天,利物浦移民檢查員報告說,有 1,362名「低薪和其他不受歡迎的」華人海員被驅逐出境。
The secret repatriation campaign was not a usual, placid or cooperative affair. Written records suggest that it was conducted as a manhunt. The phrase "roundup" is used repeatedly in official correspondence. An immigration officers' report announced that: "Two whole days were spent in an intensive search of approximately 150 Pool boarding-houses, private boarding houses and private houses." By the summer of 1946, the Liverpool immigration inspectors were reporting that 1,362 "off-pay and other undesirable" Chinese seamen had been deported.
部分海員因為戰爭的結束和工作的減少,本來就準備回家。不過,連數以百計已與英國女人結婚、生子並在利物浦定居的海員,也被驅逐出境。海員的家屬並沒有被告知發生了什麼,大多數華人海員的英國妻子一直到去世都不知道事情的真相,以為是他們的丈夫拋棄了她們。
With the war over and work scarce, many of the men would have been more than ready to go home. But hundreds of Chinese seamen had met and married English women, had children and settled in Liverpool were deported too. The Chinese seamen's families were never told what was happening. Most of the Chinese seamen's British wives would go to their graves never knowing the truth, always believing their husbands had abandoned them.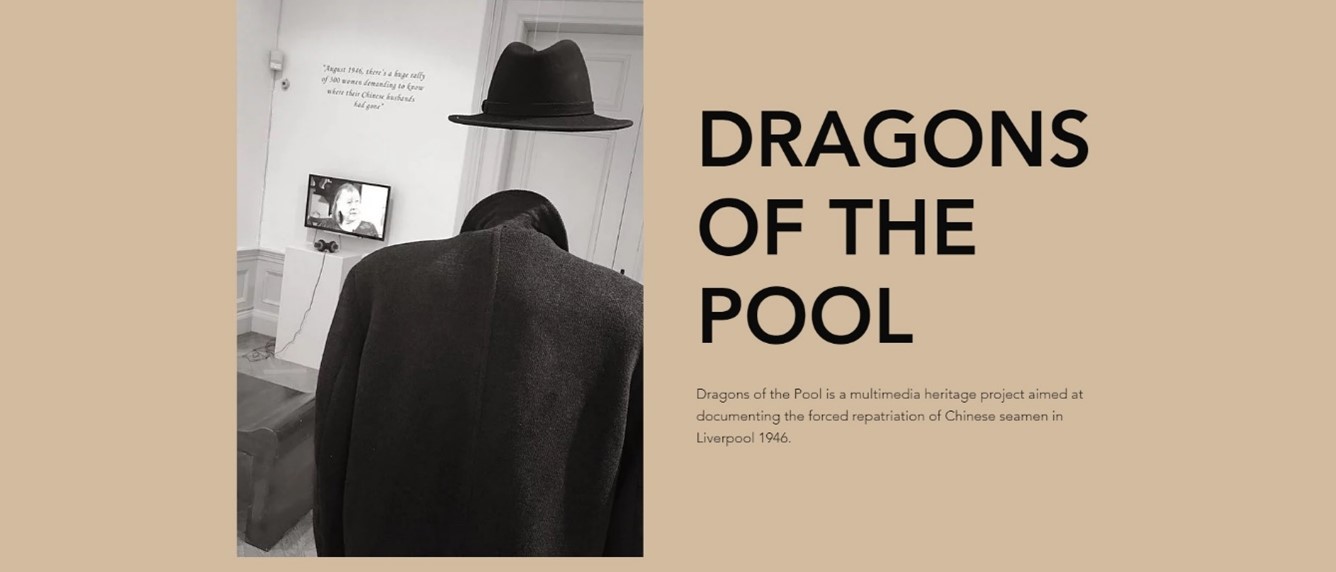 被驅逐出境海員的子女舉辦展覽揭露這段英國歷史的暗黑一章。(網上圖片)
Adult children of deported seaman held exhibition to expose parts of this dark chapter in British history. (Source: Internet)
「我們只是微不足道,對白廳來說無足輕重。」有海員的女兒直至年近60才獲悉生父當時被強制遣返,她期後聯絡其他當時同被遺棄的小孩,收錄他們零碎又模糊的父親回憶,查找多地的歷史檔案館及博物館,並尋求當年航運公司文件,及與被遺棄的年老海員妻子見面,建立網站、舉辦展覽及出書,以揭露這段英國歷史的暗黑一章。
"We were a blip. No big deal in Whitehall," said a daughter of deported seaman. It was not until she was nearly 60 that she began to discover what had really become of her father. She started to contact more abandoned children to remember their fathers, though those memories are hazy and fragmented. She visited libraries and museums around the world, researched shipping documents and met those last surviving wives. She built website and published book helped to build a vivid picture of what had happened, to expose parts of this dark chapter in British history.
從她的訪問中可見,當時不少失去父親的小孩生活貧困,受著種族歧視,有受訪者更指不時受飲酒後的後父虐待。另一名受訪者表示,自海員父親無聲告別,在他14歲的時候母親就與後父移民美國,只有他及外祖母留在英國居住,惟不久外祖母離世,把他交給同父異母的哥哥照顧,他直指,「這國家不知道像我這樣的孩子所受的傷害。我從來沒有談過賠償。我只想要一個道歉。」
For many of the children, their early years were marked by poverty, racist abuse and stepfathers who were "bad in the drink", to quote one of her interviewees. Another interviewee told that after his seaman father disappeared, his mother and stepfather emigrated to the US when he was 14. Leaving him in Liverpool with his grandmother, who died shortly afterwards, leaving him in the care of his older half-brother. "This country doesn't know the damage it's done to kids like me. I've never talked about compensation. I just want a bloody apology."
原文摘自: 英國衛報
Extracted from: https://www.theguardian.com/news/2021/may/25/chinese-merchant-seamen-liverpool-deportations
秘密遣返:二戰後被背叛的中國海員/The secret deportations: how Britain betrayed the Chinese men who served the country in the war