2021年9月18日,在船员代理康毅公司的协助下,香港国际海员服务中心工作人员探访了"MARCLIFF"商船海员。
Staff of Hong Kong International Seafarer Services Centre visited MV MARCLIFF on 18th September 2021, with the assistance of shipping agent CONICE Limited.
"MARCLIFF"商船系属德国船东,悬挂安提瓜和巴布达旗,主要往返于中国、日本、韩国、台湾、香港等国家与地区,船员主要来自菲律宾、俄罗斯联邦与乌克兰。
Flies the flag of Antigua and Barbuda, the vessel which is owned by a Germany company travels mainly to and from China, Japan, South Korea, Taiwan, Hong Kong and other countries and regions. The crew onboard mainly come from the Philippines, Russian Federation, and Ukraine.
中心工作人员向AKOBIY船长、船员代表MARQUILLER三副介绍了中心的有关情况,并告知其在疫情期间可为抵港海员代购日常生活用品。
Staff  introduced the Centre to Captain AKOBIY and crew representative third officer MARQUILLER. Crew were informed that they are welcome to purchase daily necessities through the Centre during pandemic.
船员代表MARQUILLER三副感谢中心探访并赠送防疫用品,他表示将把上述信息转告同船的海员及菲律宾的海员同行。
MARQUILLER, the third officer,on behalf of all Crew thanked the Center for visiting and donating anti-epidemic Items. He said that he would pass the above information to the crew onboard and seafarers from the Philippines.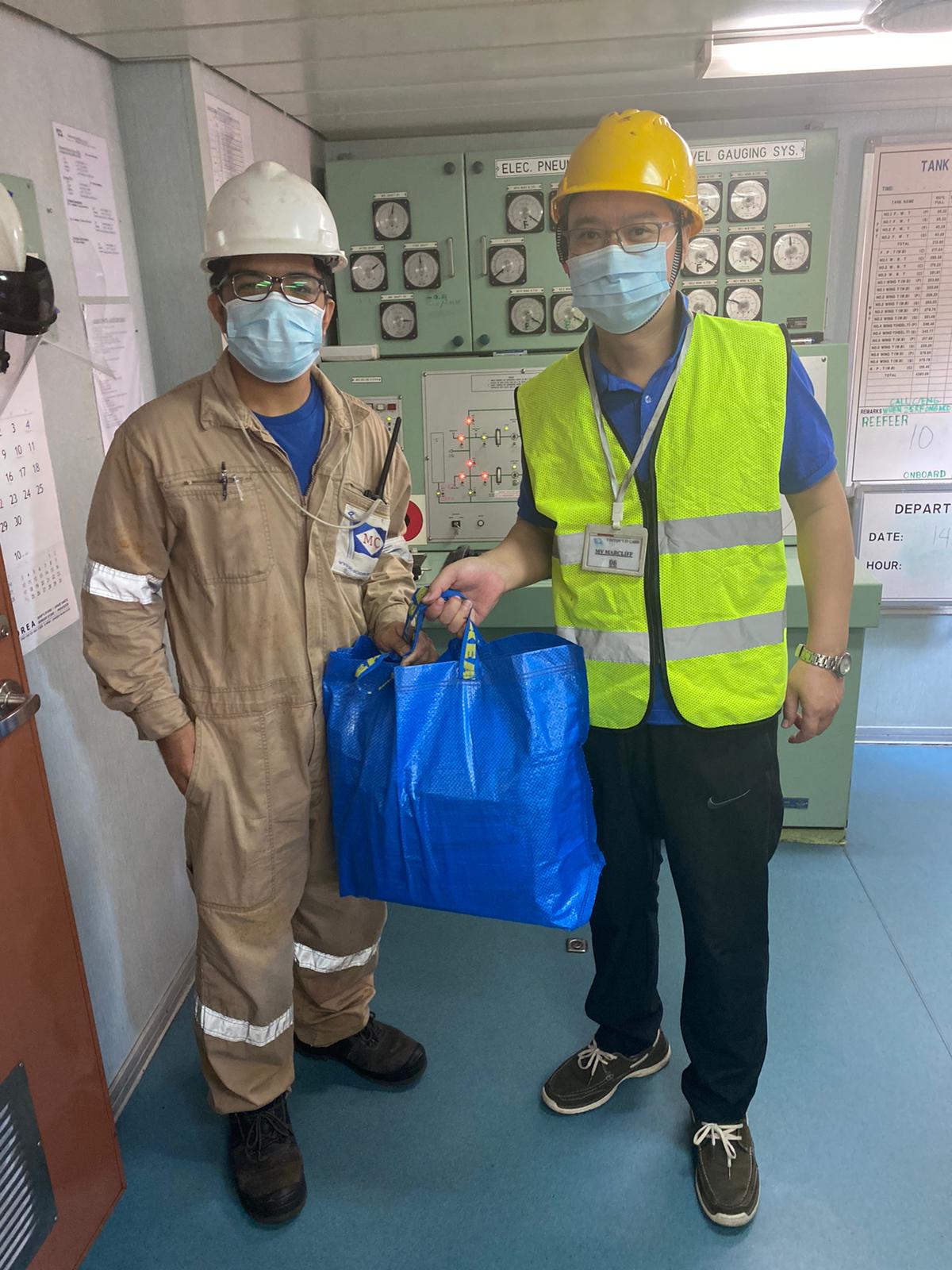 Presenting anti-epidemic Items to the crew on board.
探访"MARCLIFF"商船海员/ Visiting MV MARCLIFF