探访"M.V. EVER CENTER"船员/VISIT THE CREW OF "M.V. EVER CENTER"
2022年4月21日,香港国际海员服务中心工作人员应邀前往4号货柜码头,探望了"EVER CENTER"商船上的国际海员。
On April 21, 2022, staff of the Hong Kong International Seafarer Services Center was invited to Container Terminal 4, Kwai Chung, Hong Kong to visit the international seafarers on the m.v. EVER CENTER.
"EVER CENTER"商船(IMO号:9886990)系台湾长荣公司承租的2万吨集装箱船,悬挂巴拿马旗,由内地公司运营管理,主要往返于高雄、上海、寧波、蛇口、香港及泰国的林查班等港口。当班船长及大部分船员来自内地,一名香港船员受聘担任三副职务。
The near 20,000gt Panama-flagged vessel EVER CENTER (IMO No.: 9886990) is a container ship chartered by Taiwan Evergreen Company, operated and managed by a Mainland China company. The vessel mainly travels to and from ports of Kaohsiung, Shanghai, Ningbo, Shekou, Hong Kong, Laem Chabang of Thailand and others. Master and most of the crew members are from Mainland China, and a Third officer come from Hong Kong.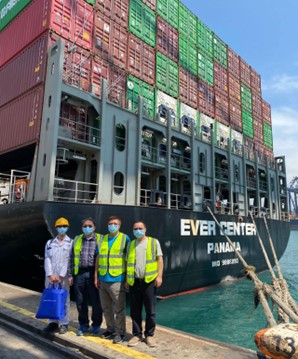 根据有关防疫要求,探访人员没有登船,在船舷边将慰问物资交予船员代表,并转达了香港同行的问候。
According to the latest Anti-epidemic measures, representatives from ISSC did not get on board of the vessel, but handed over the condolence presents to the crew representatives beside the berthed vessel, and expressed the greetings on behalf of  Hong Kong colleagues in maritime sector.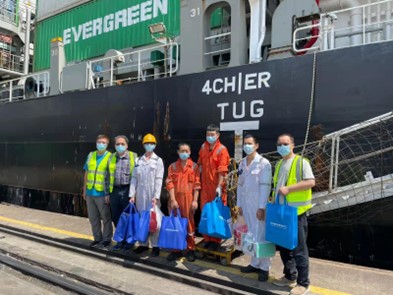 此次探访活动系中心与香港航业海员合倂工会联合举行。
The visit was jointly carried out by ISSC and Amalgamated Union of Seafarers, Hong Kong.
探访"M.V. EVER CENTER"船员/VISIT THE CREW OF "M.V. EVER CENTER"