2021年12月6日,中心工作團隊聯合香港航業海員合併工會前往碼頭探望了M.V. WAN HAI306商船船員。
On 6th December 2021, a team from Hong Kong International Seafarer Services Centre (ISSC) and Amalgamated Union of Seafarers, Hong Kong (AUSHK) went to the port to visit the crew members of MV WAN HAI 306.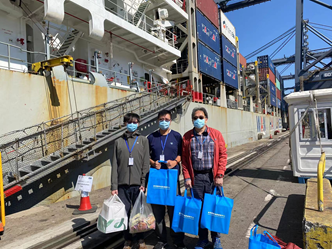 MV WAN HAI306懸掛新加坡旗,主要往返於新加坡、越南、中國香港、蛇口、南沙等國家和地區,船員主要來自中國、印尼等地。
Flies the flag of Singapore, MV WAN HAI 306 mainly travels to and from countries and regions included Singapore, Vietnam, China Hong Kong, Shekou and Nansha. The crew mainly comes from China and Indonesia.
當下,香港疫情管控形勢仍很嚴謹,香港國際海員服務中心已暫時停止登船探訪活動。惟此次應船員請求,中心在船舷邊向船員代表轉交代購的生活必需品,同時向船上的海員贈送了毛巾、口罩等防疫用品及2022年度掛曆、報刊雜誌等。
The pandemic situation of Hong Kong at present is not stable and epidemic control is still strict. Although ISSC has temporarily suspended on board visit, we are still trying our best to show our consideration for seafarers. As requested by the crew from MV WAN HAI306, the team handed over the daily necessities to the representative of the crew beside the docked vessel. Anti-epidemic supplies such as towels and face masks, as well as snacks, calendars, newspapers and magazines as presents from ISSC were also given to them.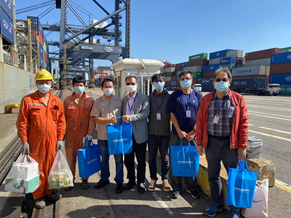 事後,船長特意向工作人員發來短信稱:我們全體船員感謝你們在疫情嚴重的情況下看望我們,謝謝香港同行對我們的惦念!
The Master sent a text message to express their gratitude afterward, "All of our crew members thank you for visiting us under the severe epidemic situation. Thank all Hong Kong seafarer brothers for care about us!"
探訪"億春WAN HAI 306"商船船員 /Visiting MV WAN HAI 306