7月16日以来,中国河南省持续遭遇强降雨,郑州、新乡等一些地区受灾严重,受灾人数达一千多万。
Since 16th July 2021, China's Henan province has been suffered by severe flooding, caused by a period of prolonged heavy rainfall. Widespread damaged to the region and millions of people were affected by the heavy flood.
大雨无情人有情,一方有难八方支援。获悉河南人民蒙受洪涝灾害,香港社会各界感同身受,纷纷向灾区群众伸出援手,香港三家海事劳工团体亦为灾区职工群众送去爱心。
Disasters have no mercy, but humans do. Various sectors of Hong Kong society lent a helping hand by making contributions and offering emergency aid services for disaster relief in Henan province. Three maritime unions of Hong Kong also reacted promptly.
7月29日,本中心的两家理事单位—香港商船高级船员协会(MNOG)、香港航业海员合併工会(AUS)主要负责人前往中央人民政府驻香港特别行政区联络办公室(以下简称"中联办"),通过中联办向河南受灾职工群众转达香江海员的关心,并送去两家工会的爱心捐助。
The two founders of Hong Kong International Seafarer Services Center, Merchant Navy Officers' Guild- Hong Kong (MNOG)and Amalgamated Union of Seafarers, Hong Kong(AUS)presented donation on 29th July. Representatives of two unions were greeted at the Liaison Office of the Central People's Government in the Hong Kong Special Administrative Region, through whose special account the donation will be contributed for disaster relief.
中联办社工部赵耀文处长接待了两家工会代表,并代表受灾地区群众接受善款。他衷心感谢两家工会的爱心捐助,并表示将尽快向河南省总工会转交香港海员的善款,委托其向受灾的职工群众发放。
Mr. ZHAO Yaowen, the director of Department of Social Affairs, received the donation, and expressed heartfelt gratitude on behalf of those in need. The donation of Hong Kong seafarer will be transferred to Henan Provincial Federation of Trade Unions, who are distributing support to victims and their families.
MNOG会长谭胜捷、秘书长锺东堂赠送善款25万港币。
On behalf of MNOG, Capt. Tam Shing Chieh, President and Capt. Chung Tung Tong, General Secretary presented the donation of HKD250K.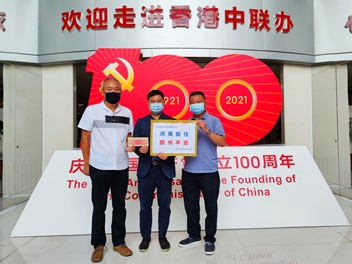 AUS理事长欧阳锦龙、总干事黎贵游赠送善款25万港币。
On behalf of AUS, Mr. Au Yeung Kam Lung, Chairman and Mr. Lai Kwai Yau, Administrator presented the donation of HKD250K.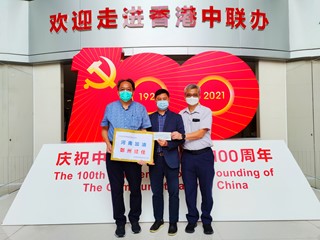 情牵河南,香江海事劳工团体纷献爱心 Hong Kong Maritime Unions Donate to Henan Flood Relief