全球运输工会正告多国政府:反对豁免疫苗专利限制恐延长供应链困难局面/opposing vaccine waiver prolong supply chain misery, global transport unions tell governments
–国际运输工人联盟 (ITF)向反对新冠疫苗知识产权辖免的各国领导人递信。
ITF delivered letters to the leaders of governments who oppose removing IP restrictions on Covid vaccines.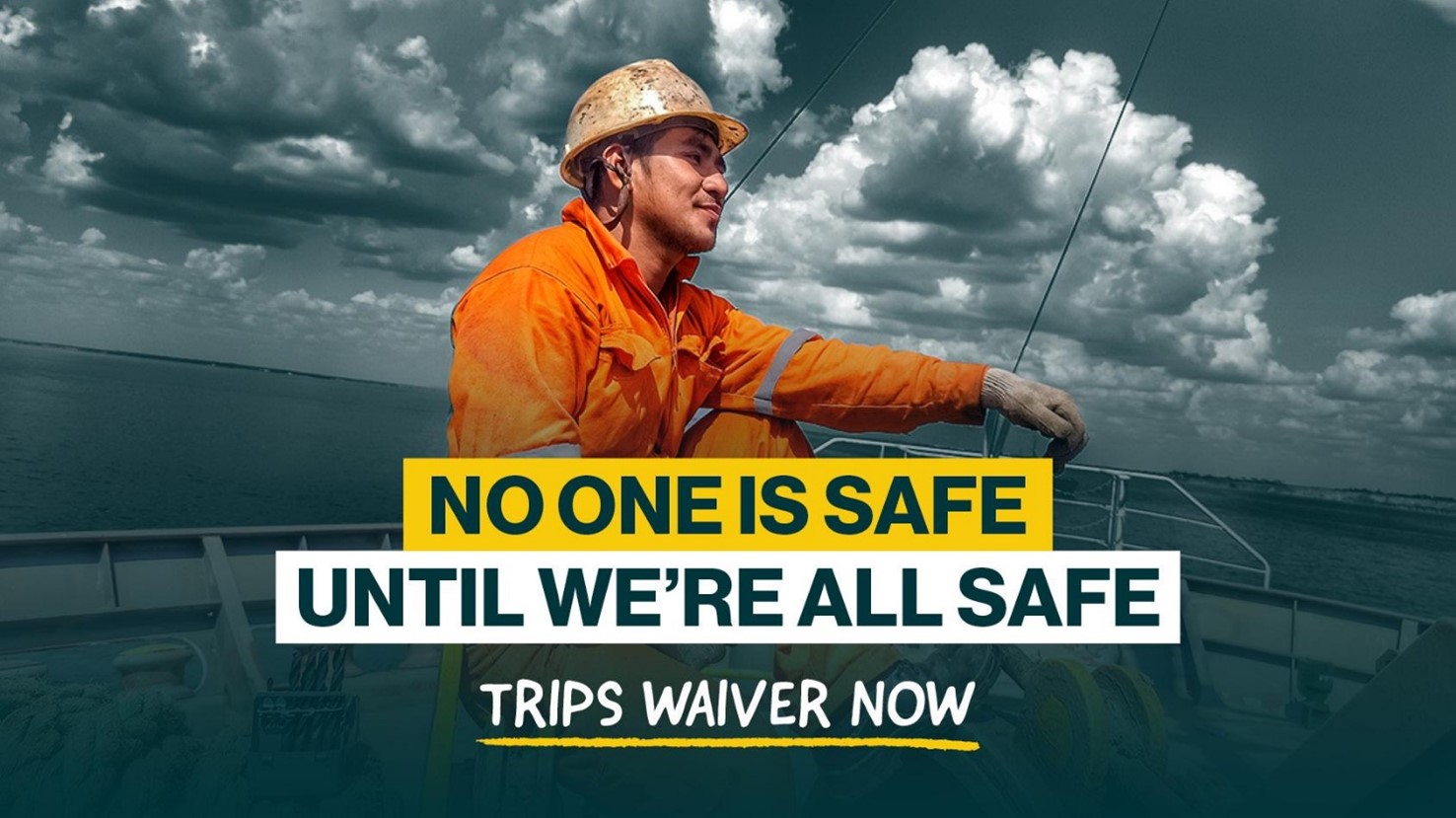 (Image/图片来源: ITF)
ITF代表全球118个国家和地区覆盖超过1200万名运输工人的数百个工会,向反对豁免新冠疫苗的知识产权限制的多国政府发出公开信,指责此举恐将加剧供应链危机并造成"经济自残"。
Hundreds of trade unions, representing over 12 million transport workers from 118 countries around the world, have penned an open letter to governments who oppose removing IP restrictions on Covid vaccines, accusing them of compounding supply chain crises and inflicting 'economic self-harm'.
376个工会组织共同写信给英国、德国、瑞士和欧盟委员会的领导人,要求他们停止反对新冠疫苗、治疗方法和诊断方法的临时知识产权豁免。世界贸易组织(WTO)相关知识产权豁免的提议简称「TRIPS豁免」,呼吁全球在紧急状况时,各国可公平分享疫苗和医疗技术。
376 unions wrote to leaders from the UK, Germany, Switzerland, and the EU Commission demanding that they end their opposition to a temporary intellectual property waiver on Covid vaccines, treatments and diagnostics proposed to the WTO, known as 'TRIPS waiver'.
在日内瓦举行的WTO's TRIPS会议的第二天前,国际运输工人联盟 (ITF)向各国领导人递交了公开信。
The International Transport Workers' Federation (ITF) delivered the letter to the leaders ahead of the second day of the WTO's TRIPS Council meeting in Geneva.
信中提到,豁免制度对于加快全球疫苗接种至关重要。国际货币基金组织警告说,如果没有这一制度,未来5年全球生产总值可能会进一步减少5.3万亿美元。
A waiver system, it said, is vital to speed up the global vaccination roll out without which the IMF has warned that $5.3 trillion could be further wiped from global GDP in the next five years.
时至今日,部分低收入国家只有不足3%人口接受过新冠疫苗单剂注射。
Today, less than three percent of people in low-income countries have received a single dose.
ITF秘书长斯蒂文•科顿表示,这三个国家和欧盟一方面在阻止各国人民普遍获得疫苗注射和疫情中的求生技能,一方面卻声称正在解决供应链危机,犹如精神分裂。
Stephen Cotton, ITF General Secretary commented: "It's schizophrenic that these three countries and the EU are blocking universal access to vaccines and lifesaving tech whilst simultaneously claiming to be solving the supply chain crisis."
运输业界将令世界领导人明白,除非各国政府采取协调行动结束这场「全球人道主义和供应链危机」,否则全球运输系统将面临迫在眉睫的崩溃威胁。来自 IATA、ICS、IRU和ITF等组织的领导人呼吁「紧急增加全球疫苗供应,以加快行业复苏」。
The transport industry put world leaders on notice that the global transport system faces the imminent threat of collapse unless governments take coordinated action to end the 'global humanitarian and supply chain crisis'. Transport leaders from IATA, ICS, IRU and ITF called for "urgent increase global vaccine supply in order to expedite the recovery of our industries".
英国仍未从货车司机短缺导致全国燃料不足的影响中恢复过来。两年来,各国不一致和不人道的旅行禁令,令海员无法上下船,让已经岌岌可危的全球供应链压力更加严峻。在英国变种病毒感染个案上升后数周,由于公布新的旅行限制,航空公司被迫取消英国和德国之间的航机载客量超过70%。
The UK is still recovering from the impact of a nationwide fuel shortage caused by a lack of HGV drivers. Two years of inconsistent and inhumane travel bans have stopped seafarers being able to get on and off ships, which has added intense pressure to already crumbling global supply chains. And in the weeks after the rise of the Delta variant in the UK, airlines were forced to cancel over 70 percent of their scheduled capacity between the UK and Germany due to new travel restrictions.
ITF秘书长斯蒂文•科顿补充说:「疫情期间,运输工人将人民带回家,运送关键工人上班,并保持物资供应链的运转。但全球疫苗供应和获得治疗机会的不平等,对运输工人的自身安全构成威胁,也对供应链的复原和全球经济的重振构成威胁。」
Cotton added: "Throughout this pandemic transport workers have brought citizens home, transported key workers to work, and kept critical supply chains moving. But the inequality in access to vaccines and treatments globally is an existential threat to transport workers' personal safety, but also to the resilience of supply chains, and reinvigoration of the global economy."
「每一天的延误都意味着更多的死亡,令工业和经济复苏的困难加大。TRIPS豁免必须立即通过。我们的生活和生计都依赖它。」
"Every day of delay means more deaths, and more setbacks to the recovery of our industries and economies. You must pass the TRIPS waiver without delay. Our lives and our livelihoods depend on it."
Source/摘文来源: https://www.itfseafarers.org/en/news/uk-germany-switzerland-and-eu-prolonging-supply-chain-misery-opposing-vaccine-waiver-global
全球运输工会正告多国政府:反对豁免疫苗专利限制恐延长供应链困难局面/opposing vaccine waiver prolong supply chain misery, global transport unions tell governments