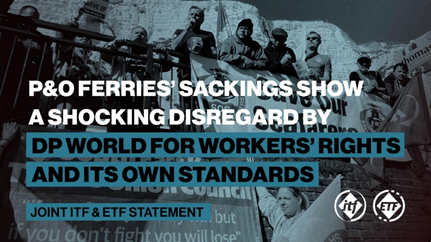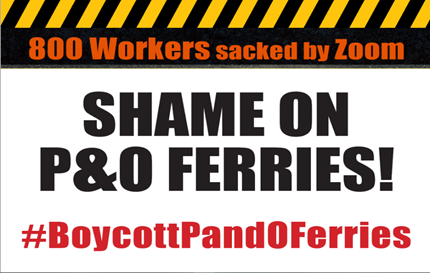 英国渡轮「P&O Ferries」母公司「DP World」自诩为关注社会和企业责任的进取企业,支持劳工权利。惟P&O Ferries近日无理解雇800名海员,母公司备受质疑。
DP World sells itself as a progressive business concerned with social and corporate responsibility that supports labour rights. The company now has serious questions to answer following the ruthless sacking of 800 seafarers at its subsidiary P&O Ferries.
3月17日,P&O Ferries 解雇了800名英国海员,并只在提前30分钟,以预先录制的Zoom短片通知受解雇员工。该公司在没有与员工或其工会进行任何协商的情况下作出这一决定。
On March 17, P&O Ferries fired 800 British-based seafarers with 30 minutes notice over a pre-recorded Zoom call. The company made the decision without any consultation with its workforce or their unions.
国际运输工人联盟(ITF)和欧洲运输工人联盟(ETF)呼吁DP World与工会RMT和Nautilus International就P&O Ferries事件展开有意义的对话。The International Transport Workers' Federation (ITF) and European Transport Workers' Federation (ETF) are calling on DP World to engage in meaningful dialogue with affiliates RMT and Nautilus International about P&O Ferries' future.
ITF主席兼ITF码头工人分部主席Paddy Crumlin指出,DP World 解雇800名辛勤工作的海员是一个无情的决定,犹如残酷地打击他们的尊严;而且做法违法,亦未达其公司标准。
"DP World's callous decision to sack 800 hard-working seafarers represents a brutal attack on their dignity," said Paddy Crumlin, President of the ITF and Chair of ITF's Dockers' Section. "In doing so, they're breaching laws and failing to meet their own company's standards."
ETF主席Frank Moreels亦指该公司利用没有工会代表的劳动力取代被解雇工人,构成侵犯工人结社自由的基本权利。
Further, ETF President Frank Moreels pointed out that the use of non-union replacement labour amounts to a fundamental breach of workers' rights to freedom of association.
「他们将工作外判的计划已经败露。欧洲各地都有报导称,他们最初计划是以俄罗斯和乌克兰海员取代被解雇工人。」Moreels说。
"Their plan to outsource the jobs is in tatters. Reports are coming in across Europe that their original strategy was to replace the sacked workers with Russian and Ukrainian seafarers," said Moreels.
透过视像会议被解雇时,P&O Ferries对员工说这是一个「艰难」的决定,但如未能如此推行变革,生意将「不可行」。
In the Zoom sacking, P&O Ferriestold workers this was a "tough" decision, but it would "not be a viable business" without the changes.
但事实上,持有P&O Ferries的DP World在疫情期间,收入和利润均创新高。去年其收入和利润分别超过108亿美元和12亿美元,与对上一年比较,利润增长达 33%。仅在过去两年中,该公司就向股东发放3.761亿美元的股息。
In fact, P&O Ferries' owner DP World has made record revenue and profits throughout the pandemic, turning over $10.8bn in revenue and $1.2bn in profit last year, a 33% increase in profit compared with the previous year. The company has paid out $376.1 million in dividends to shareholders over the past two years alone.
ITF主席Paddy Crumlin明确表示,为了800名失业工人的利益,他们已准备好并愿意促进公司与工会之间的对话,但一旦需要以行动捍卫这些工人的工作,他们亦已同时准备随时发动集体行动。
ITF President Paddy Crumlin made it clear that: "In the interest of the 800 workers who have lost their jobs, we are ready and willing to facilitate dialogue between the company and the unions, but we also stand ready to provide meaningful solidarity across DP World's global operations if need be to defend these workers' jobs."
「P&O Ferries违反法律,必须受到惩罚。」Nautilus International秘书长Mark Dickinson说。他在声明中提到,英国法律规定任何雇主有义务在解雇100 名或以上员工前90天或更短的时间内,以书面形式通知船旗国他们有关终止该批员工雇佣合同的决定,并在第一批员工解雇生效前至少45 天。如果裁员人数为 20 人或更多(但少于 100 人),通知期则为30天。"P&O Ferries broke the law and must be penalized."saidMark Dickinson, General secretary ofNautilus International. In the statement, he mentioned that UK lawplaces a duty on any employer proposing to dismiss as redundant 100 or more employees at one establishment within a period of 90 days or less to notify the flag state, in writing, of their proposal before giving notice to terminate an employee's contract of employment in respect of any of those dismissals, and at least 45 days before the first of those dismissals takes effect. If the redundancies number 20 or more employees (but less than 100), the notice period is 30 days.
在2020 年,P&O Ferries完全依法宣布和完成咨询,裁减整个业务1,100人。但2022年,该公司行政总裁 Hebblethwaite却在致政府的信中坦诚承认,该公司只在裁员当日,即2022年3月17日通知「相关部门」。
In 2020, P&O Ferries fully complied with the law in announcing and consulting on 1,100 redundancies across the business. In 2022, Mr Hebblethwaite, P&O chief executive, has freely admitted in his letter to the Government that notification was made to the "relevant authorities" on 17 March 2022.
Nautilus International希望政府向违法者采取一切可行行动,不要让他们以为可以用钱收买人人噤若寒蝉,胁迫海员失去工作或接受较低的工资,或要胁他们接受有害和不安全的工作条款和细则。
Nautilus International expects the government to take all possible action against these law breakers, who think they can buy silence and bully seafarers into unemployment or accepting lower wages and detrimental and unsafe terms and conditions of employment.
Resource:
https://www.itfseafarers.org/en/news/po-ferries-sackings-show-shocking-disregard-dp-world-workers-rights-and-its-own-standards
https://www.nautilusint.org/en/news-insight/news/pando-ferries-broke-the-law-and-must-be-penalised/