新型冠狀病毒疫情對香港航運業及本港船員的工作、生活均造 成嚴重影響。針對船務公司的不同應對措施,船員心裡又如何想呢?
某港澳線高速船公司劉船長來函表達了他的看法︰《東方日報》曾報導有船務公司收千萬補助卻仍要員工放無薪假(詳見截圖),該船公司的做法不恰當。在疫情嚴峻情況下,本港百業蕭條,民不聊生。面對疫情風暴,公司與僱員應風雨同舟,齊心合力共度難關。
他並指現職的船公司收到政府補助後不但沒有裁員及提出無薪假的要求,還鼓勵開展培訓活動,提高員工的職業技能水平。一眾同事慶幸有一個開明的老闆。他希望更多的本港船務公司肩負起應有的社會責任,疫情面前,善待員工,齊心協力,共克時艱。
The coronavirus has affected the local seafarers and made a great impact on the shipping industry.
Captain Lau who works in a Hong Kong Macau high-speed craft, he sent a letter for us to express his comment after he read the news reported that one shipping company received tens of millions of subsidies but still required employees to take unpaid leave (see screenshot for details). He said the action by the shipping company was inappropriate. The companies and their employees should support each other for facing the severe situation.
He also pointed out that the current company not lay off staff and requested unpaid leave, but also encouraged training activities to improve the professional skills of employees.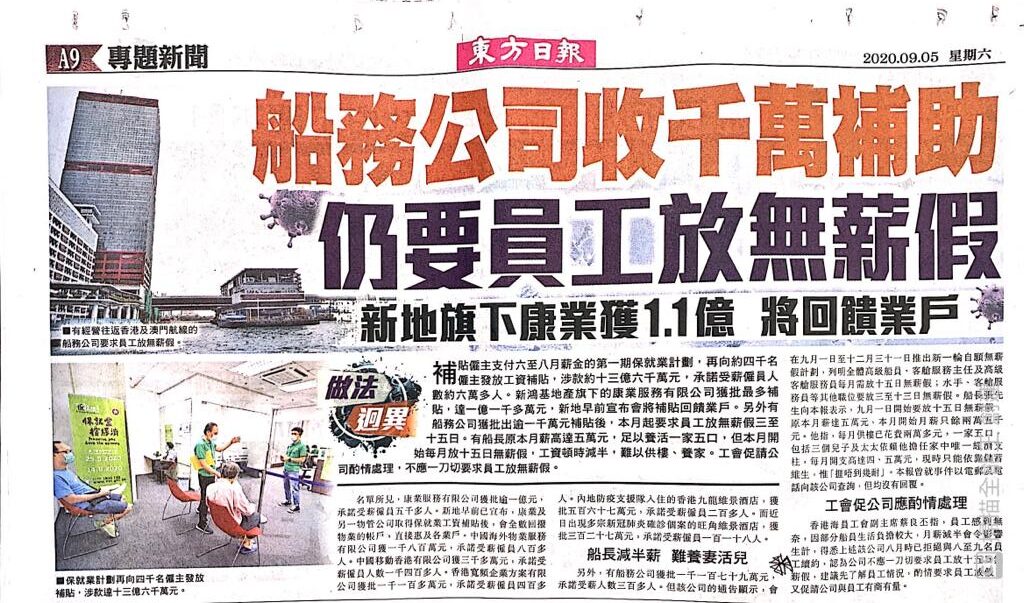 疫情下香港船員的心聲 The Voice under the Virus